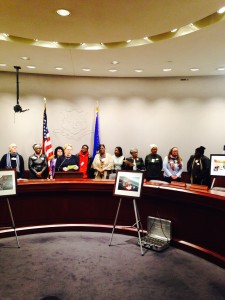 On February 1, Bob Fishman attended a press conference for the Witnesses to Hunger CT exhibit. This is a project that uses photographs taken by Connecticut residents to bring visibility to their everyday struggles to make ends meet. These powerful images and the stories behind them reinforce the need for substantial policy change to ensure health, success, and hope for all of our neighbors. The exhibit is comprised of over 50 photographs taken by 15 witnesses from towns across Connecticut. Several of the witnesses spoke at the conference, along with Senator Marilyn Moore.
Some important facts to know:
1 in 7 CT residents struggle with hunger
14.3% of CT families do not have adequate resources to purchase enough food
68% of food pantry and soup kitchen clients in CT at one point had to choose between food or medical care
Across CT, 50% of renters and 35% of owners spend more than 30% of their income on housing
To get involved and learn more, visit End Hunger CT.